PTFE, HDPE, PC, POM, PP, Polyamide, PU, PVC
PTFE (Teflon) is a specialized engineering plastic which has excellent non-stick properties; it has a surface to which no substance will adhere. PTFE is not affected by almost all chemicals and solvents and has outstanding dielectric properties. PTFE also has excellent UV resistance and is capable of continuous use at 260 degrees centigrate (maximum). Generally food-safe and is an all-around excellent insulator.
Type: Virgin, Carbon-filled, Bronze-filled, Glass-filled, Etched
Colour: White, Black, Brown, Red, Purple, Green
Available Shapes: Sheet, Rod, Hollow, Tubing, Strip
Common applications:
High temperature seals
Insulators
Bearings
Shape
Thickness / Diameters
Temperature Range
Molded sheets
2.0 mm – 110 mm
-73°C to 204°C
Skived sheets
0.2 mm – 6.0 mm
Bars
6 mm – 150 mm
HDPE (Polyethylene) is a high-impact, high-strength polyethylene that exhibits excellent tensile strength, good abrasion resistance, and is FDA-approvedas a food-safe material. HDPE is generally weldable, light-weight, and has very low water absorption properties. The material's durability makes it ideally suited for a variety of applications such as water tanks, chute linings, and numerous industrial uses (including food).
Type: 300, 500, 1000, UHMW
Colour: Natural, Green, Black
Available Shapes: Sheet, Rod, Tube
Key Features:
• Excellent chemical resistance
• Good fatigue & wear resistance
• Resists organic solvents, degreasing agents & electrolytic attack
• USDA & FDA certified for food processing
• Great cutting board materials
• Weatherproof
Common applications:
• Chemical drums
• Toys
• Households and kitchenwares
• Cable insulations
• Food wrapping materials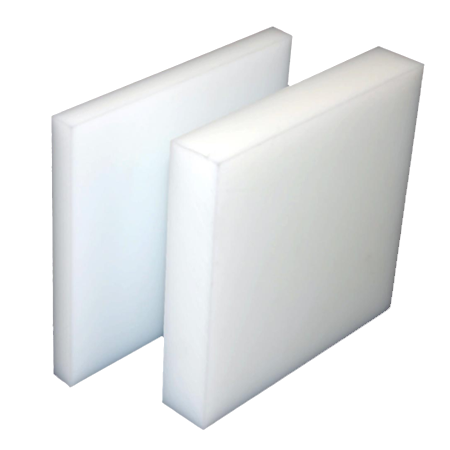 Polycarbonate (PC) is a durable material with a high-impact strength and high temperature range. It is highly-transluscent to visible light, therefore has a better light transmission than many kinds of glass. Our Polycarbonate sheets are produced by 100% virgin sabic materials.
Colour: Clear, Green, Blue, Light blue, Brown, Opal, Red, Yellow
Shape: Sheet
Key Features:
• Thickness: 4mm – 6mm
• 100% virgin bayer/lexan material
• UV Protection (one side or two sides)
• Light weight
• Very high impact strength
• Good light transmission
• Good weather resistance
Common applications:
• Skylights
• Indoor partitions
• Furnitures
• Bathrooms
POM (Polyacetal) is a polymer of choice for impact and wear resistance in a wide range of industrial and mechanical applications. With low, consistent internal stress, the material is easily machined and fabricated. POM has good wear properties and resists moistures – making it suitable in wet environments and generally the best weight-saving metal replacement.
Colour: Natural , Black
Shape: Rod, Sheet
Key Features:
• High tensile strength
• Continuous rigidity and strength at temperatures up to 85°C
• Exceptional resistance to wear, impact, and creep in wet & dry environments
• Food-safe
• Easy to machine and fabricate
Common applications:
• Pistons and valves
• Pump components
• Gears, bearings and bushings
• Rollers
• Fittings
• Food products forming dies
Polypropelyne (PP) is noted for its excellent chemical resistance in corrosive environments. It has an outstanding combination of physical, mechanical, thermal and electrical properties which provides excellent resistance to organic solvents, degreasing agents, and eletrolytic attack. PP is also light in weight, easily welded, and machined.
Colour: Natural , Black
Shape: Rod, Sheet
Key Features:
• Lightweight
• Mechanically tough and rigid
• High purity
• Excellent chemical resistance
• No moisture absorption
Common applications:
• Pump and valve components
• Food processing plants
• Chemical processing
• Semiconductor manufacturing
Nylon is easy to fabricate and has many superior properties. It is used in wide ranging applications such as electronics, marine and automotive industries due to outstanding wear resistance and low chemical properties. An excellent replacement for bronze, brass, aluminium, steel and other metals.
Colour: Natural, Black, MD, Glass-filled, Oil-filled
Shape: Sheets & Bars
Key Features:
• High tensile strength
• High impact resistance
• Resists wear, abrasion and vibration
• Can withstand contact with chemicals, alkalis, dilute acids or oxidizing agents
• Very easy to fabricate
• Light weight
Polyurethane is a unique material that offers the elasticity of rubber combined with the toughness and durability of metal. Urethanes have replaced metals in sleeve bearings, wear plates, sprockets, rollers, and various other parts, with benefits such as weight reduction, noise abatement, and wear improvements being realized.
Colour: Yellow, Orange, Red, Black
Shape: Rod, Sheet, Angle, Square
Type: Polyurethane Elastomers (custom cast products) & Polyurethane Foams
Key Features:
• Abrasion resistance
• Toughness – tensile strength
• High load bearing ability
• High tear resistance
• Mechanical properties
• Resistance to water, oil & grease
• Electrical properties
• Cost effectiveness
Common applications:
• Gaskets
• Wheels
• Bearings
• Bumpers
• Seals
• Gears
Polyvinvyl chloride (PVC) is one the most widely used materials in the manufacturing industry. PVC is easily machined, heat formed, welded, and even solvent cemented. There are three broad classifications for rigid PVC compunds: type I, type II, and CPVC; with type I the most commonly employed. PVC has excellent electrical insulation properties, making it also ideal for cabling applications. Its good impact strength and weatherproof attributes make it ideal for construction projects.
Colour: Grey, Clear
Shape: Rod, Sheet, Angle, Square
Type: Rigid, Flexible
Key Features:
• Excellent chemical resistance
• Light-weight
• Low cost
• Maximum temperature of 68°C
• Easy to machine
Common applications:
• Flooring
• Medical products
• Window frames
• Insulations